Full Character Name: Murai Naoyuki (村井直之) aka Nao
Band/Industry: Alice Nine
Position:
Breed: Human
Character Nicknames: Nao
Age: 32
Date of Birth: July 31st, 1982
Birthplace: Miyagi, Hokkaido, Japan
Astrology Sign:
Gender: Male
Height: 170cm
Weight: 53kg
Sexual Orientation: Bi
Love Interest(s): TO BE FILLED IN AS YOUR CHARACTER/MUSE DEVELOPS
Friends: TO BE FILLED IN AS YOUR CHARACTER/MUSE DEVELOPS
Likes: Hikikomori (Social Withdrawal), PSP and Nintendo DS, exploring, planting and growing his own vegetables, coffee, red, pink, gold, staying at home
Dislikes: Squeamish things, getting bullied, being made fun of, intimidating people
Character Abilities: Once Nao learns one thing, he learns that one thing seriously until he thinks that he is close to being good, but never knowing that he surpassed expectations.
Character Description: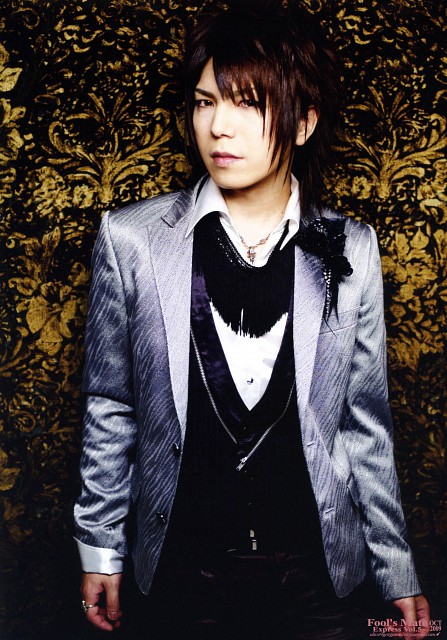 Has a few piercings on his ears.
Character Personality: Nao is, at best, an ordinary guy who never lived through anything tragic of the sorts. Except that one time where his GameBoy dropped into a river. He prefers to stay at home than going out, even doing grocery shopping online. Because of his plain looks and his affinity for games and his preference for staying at home, Nao never imagines or hopes for a day where someone might actually be interested in him, which is fine by him since he is preoccupied with other things to be bothered to be sad about it.
Character Background: Born in a middle class family somewhere up north of Japan, Nao's life has been considered boring, but he is content with it. His life story would take up less than half a page with how uneventful it is. He eventually moves down to Tokyo, where it's definitely busier than his hometown, working in a florist shop. His day off's are mainly spent at home or going to a geek's mecha paradise, Akibahara. His work as a florist is quick to be learned, so he settles down with his PSP or Nintendo DS to while away his time.
RP SAMPLE:
Passed
ETC: